Presidential candidate of the Labour Party, Mr Peter Obi has said that a new Nigeria where true democracy will be in place is possible.
Obi who made the declaration Friday during a town hall meeting in Umuahia, Abia State, said he was not in the presidential race because it was his turn but because "it is the turn of Nigerians to take back their country" from the few holding the country by the jugular.
He promised to reset the country and do things differently if voted into power at the February 25 presidential poll.
"We are going to build a new Nigeria. Yes, a new Nigeria is possible and that's why I'm in the race.
I will build a new Nigeria where we shall all be proud of the green passport. I will build a new Nigeria where we shall move from consumption to production", he said.
The former Anambra State Governor regretted that the two major political parties – the ruling All Progressives Congress, APC; and the main opposition, Peoples Democratic Party, PDP, had both , supervised the deterioration of Nigeria. He urged Nigerians to reject both parties at the forthcoming polls and vote in Labour party for better Nigeria.
According to him , "APC has given us insecurity and hunger, fuel scarcity and ASUU strike. No state in Nigeria is safe . if given the opportunity, I will restructure the entire security architecture of Nigeria to provide security to all citizens.
2023 Elections: PDP should apologize to Peter Obi over speculated merger – Group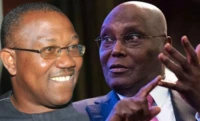 Photo credit ( Vanguard)
Mr Peter Obi and PDP Presidential candidate, Atiku
A public policy think tank, the Neo Africana Centre, has expressed dismay over the disinformation making the rounds that some presidential candidates in the February 25 polls are in merger talks with the Peoples Democratic Party, PDP with a view to withdrawing from the race in favour of the PDP presidential candidate.
In a statement by its Director of Public Affairs, Jenkins Udu, said while the Centre has always sneered at such insinuations, it was deeply alarmed when Mr Peter Obi, the presidential candidate of the Labour Party, was touted as one of those considering withdrawing from the race for Atiku Abubakar of the PDP.
According to the Centre, such an unholy rumour is viewed with utmost disgust. It called on Nigerians to shun desperate politicians who want to ride on the back of falsehood to score a cheap political point.
It also said that it is convinced that nation-wreckers are trying to hide under the veneer of politics to unleash anarchy and confusion on the system. To this end, the body wants the electorate to be vigilant and shun desperate campaigners and their antics.