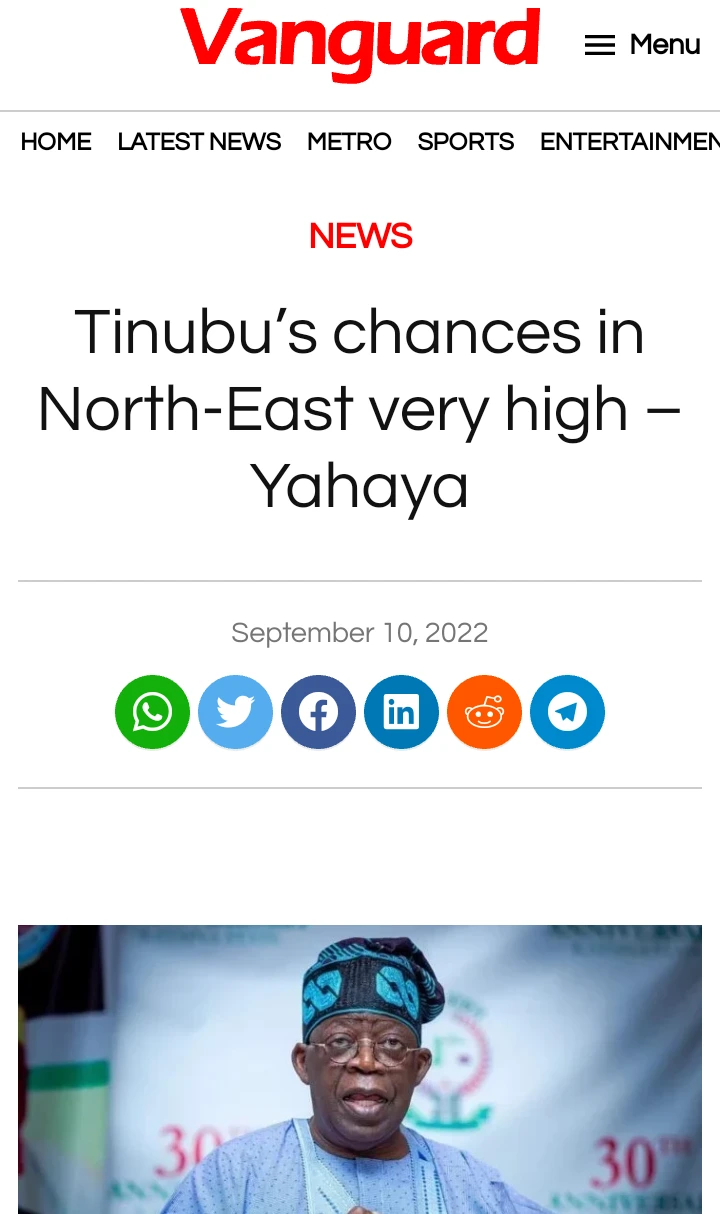 Photo Credit: Vanguard Newspapers
The North-East Coordinator of the Tinubu Support Organization, Gov. Muhammad Yahaya of Gombe, says the chances of APC Presidential Candidate, Bola Tinubu in the region in the 2023 General Elections are very high.
The News Agency of Nigeria ( NAN) reports that Yahaya said this on Saturday in Minna when he visited ex-Nigerian leaders, retired Generals, Abdulsalam Abubakar and Ibrahim Babangida.
"Our chances in the north-east are very high indeed.
"We are strong in our resolve to win the 2023 General Elections and we shall succeed.
"It does not matter that the PDP presidential candidate is from North-East. Both Tinubu and Atiku are all my brothers.
"Nigeria is one and we are struggling to maintain it as a united and indivisible country.
"It doesn't matter where they come from, what we need is the best for Nigeria," Yahaya said.
Speaking about his visot to Minna to pay a visit to the elder statesmen and check on their health especially Abdulsalami who is just recuperating.
Yahaya said: "Abdulsalam is our father and elder statesman.
"Knowing him has been a blessing to us. I came to greet him as he recovers from his recent ailment.
"I pray that God will continue to see him through his life. "
He said that the two former leaders were carrying out their duties in guiding and advising the people on how to live together as one, saying that their efforts should be applauded.
Speaking about the state of insecurity across the country, Yahaya, said that the state has been able to maintain its peace amidst diversity.
This, he said, was because the people had realized their differences early and worked to address them.
"In Gombe, you will find that some families have both Christians and Muslims,
"It is a cosmopolitan settlement and a small Nigeria.
"We realized our differences early on and seek to address them.
"We have tried to maintain peace and understanding in the spirit of nationhood and brotherhood", Yahaya said.
We'll End Commercial Sex Work In Niger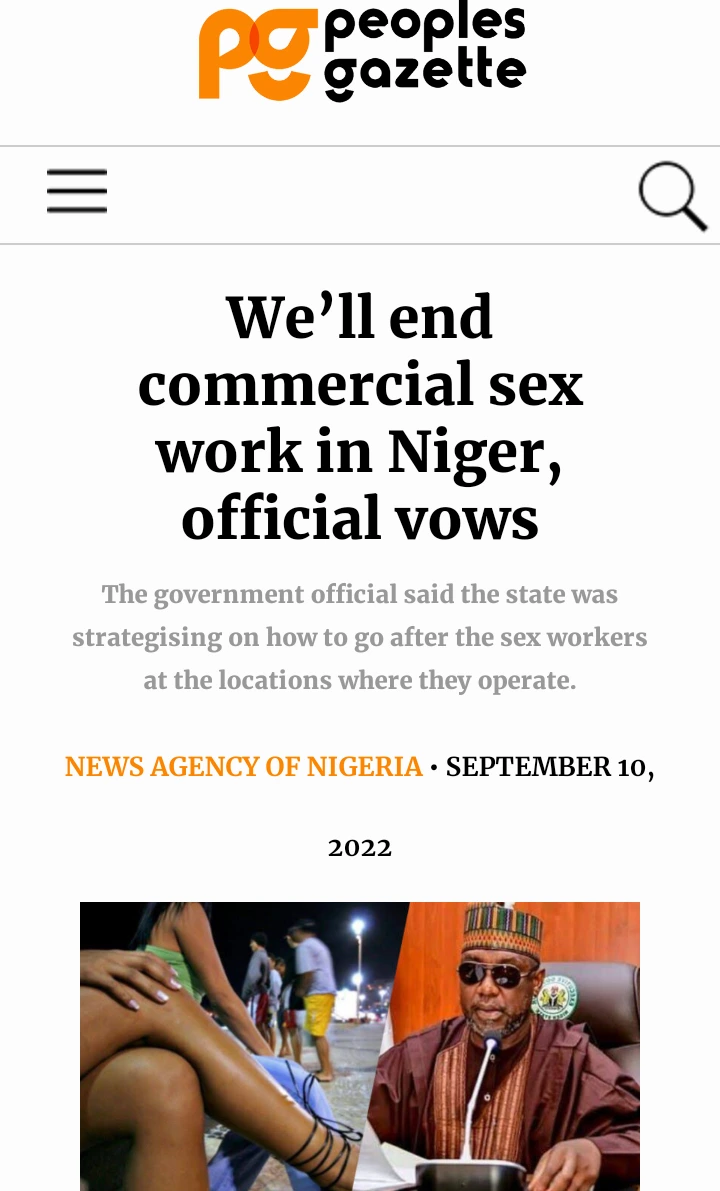 Photo Credit: Peoples Gazette
Kaltum Rufa'i, permanent secretary in the Niger State Ministry of Women Affairs and Social Development, says the government is determined to end the activities of commercial sex workers in the state.
In an interview on Saturday, Ms Rufa'i noted that there were state laws against such activity, saying the government would investigate the report of their activities to stop the trend.
"We have identified where the commercial sex workers hang out to do their businesses. As I speak with you now, the government is strategising on how to end it.
"I am assuring you that we will leave no stone unturned to stop this ugly trend in Niger," Ms Rufa'i said.
On July 26, the ministry filed a report on the activities of commercial sex workers in the state, which drew the state government's attention.
The activities of the commercial sex workers had been on for more than 15 years.
Some of the sex workers who spoke to journalists said they charged between N1,000 and N10,000, depending on the kind of service; whether short-time or all-night.
For short-time, which is about one hour service, they charge between N1,000 and N3,000, depending on the client's bargaining power.
The clients pay between N1,000 and N3,000 for hotel accommodation for a short-time service and from N5,000 to N8,000 for all-night service.
On the choice of the trade, some of the sex workers said that they ventured into the trade out of the frustration of having no job, coupled with no man to marry them.
One of them, who gave her name as Sharon Tanko, said, "I have to use what I have to help myself''.
Similarly, one client who pleaded not to be named said it was cheaper to patronise a female sex worker and pay her off after service than to keep a female friend.
According to him, when you keep a girlfriend, you must maintain her, but in the case of a sex worker, she will give you the services, and you pay her off, no strings attached.
ACF Demands End To Profiling Of Fulanis In South West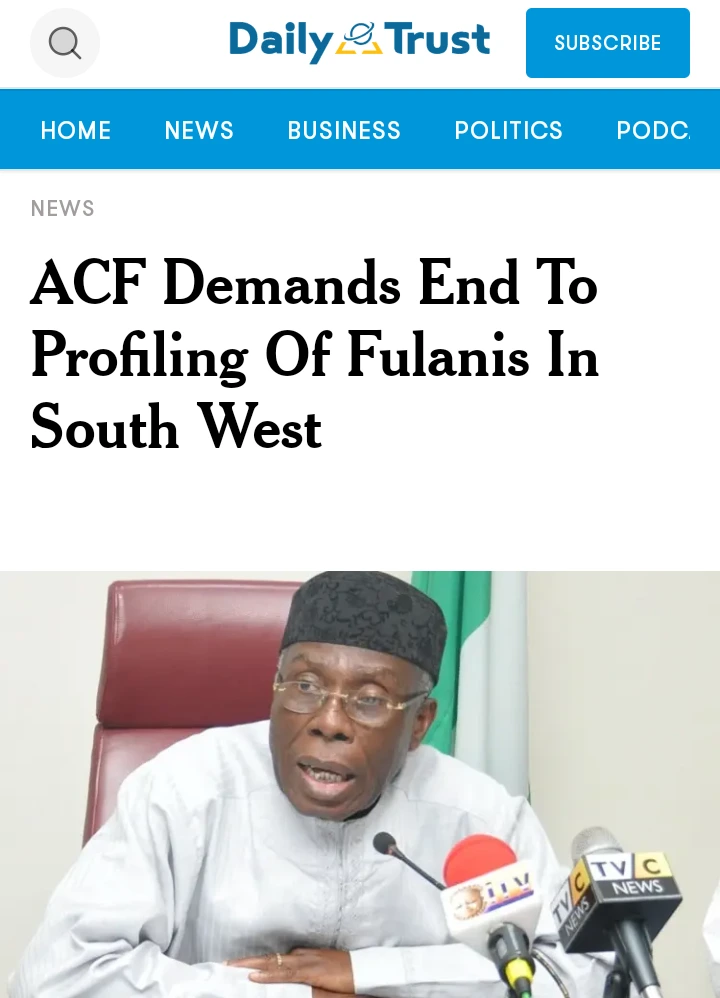 Photo Credit: Daily Trust
The Arewa Consultative Forum (ACF) has demanded an immediate end to what it termed profiling of the Fulani people in the South West region.
The National Chairman of ACF, Audu Ogbeh, made the demands in Abeokuta, Ogun State, at the inauguration of the South West Executive of Arewa Consultative Forum and conferment of the Award of Peace Ambassador on Governor Dapo Abiodun by the Forum.
Ogbe, represented by the Administrative Secretary, Munir Mohammed, expressed concern over the alleged ethnic profiling in the region.
However, he called for diligent prosecution of those found "wanting in the law courts to serve as a deterrent to others."
The ACF Chairman noted that Ogun "is one of the few states that accommodates people from diverse culture, religious and political affiliations."
He said the Northern have enjoyed the hands of friendship extended to them by the indigenes of the state.
Ogbeh also appreciated the state government for "making Ogun conducive for all to carry out their daily business activities without molestation."
In his remarks, Abiodun called on Nigerians to eschew politics of rancour and acrimony, as next year's draws near.
He noted that it was time to engage in activities that would unite rather than divide the country.
He said: "Let me use this opportunity to inform our people that politics and politicking towards next year's general elections have already begun, and we must all shun the politics of rancour and acrimony. We should rather consider the greater good of our nation as paramount in our thoughts and deeds.
"We must not allow politics to truncate what we have enjoyed in Ogun State. This administration has done everything within its capacity to lower the political temperature, to ensure that all issues relating to crime, criminalities and thuggery are lowered so that our people can be free to go about their businesses.
"I want to thank the Miyetti Allah chairman who in his remarks stated that in Ogun State, everyone is free to go about their legitimate businesses at any time of the day. I therefore urged all our people to continue in their support and cooperation and also in prayers, together, we will build a state that is enviable by others", he said.
He explained that as a multi-cultural and multi-religious society, tolerance and understanding remain the prime attributes needed for the overall economic development and well-being of the people.
PDP Lose Another Bigwig To APC In Yobe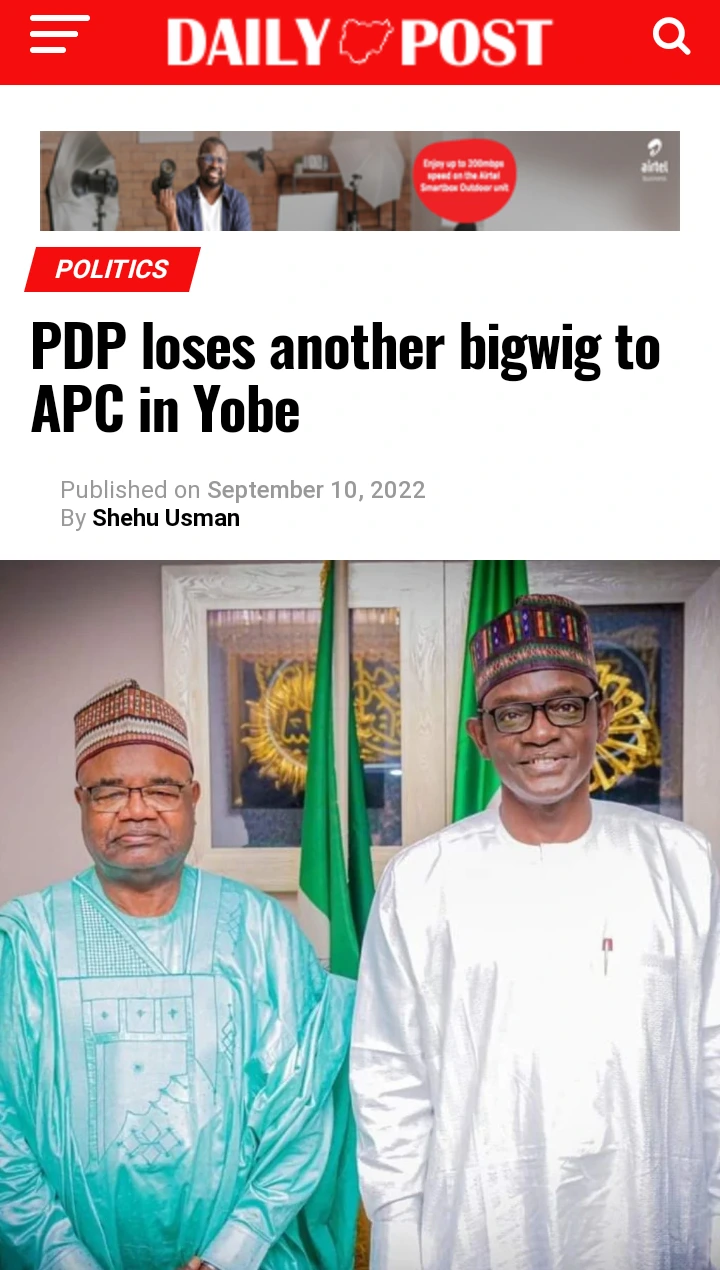 Photo Credit: Daily Post Nigeria
A former senator and chieftain of the Peoples Democratic Party in Yobe state, Alh. Adamu Garba Talba, has again dumped the party and joined the ruling All Progressives Congress (APC).
This is coming barely two months after Senator Talba defected to PDP from APC.
In a statement on Saturday signed by Gov. Buni's Spokesman, Mamman Mohammed, indicated that Sen. Talba said he moved to the APC to identify with the giant strides of the APC administration in the state and to ensure continuity in development.
He said, "There is no hope for Yobe State and Nigeria in any other political party than the APC.
"I am here in APC for good and for the betterment of Yobe State and Nigeria".
Governor Mai Mala Buni, who received the former lawmaker, described Talba's defection to APC as home coming.
"Frankly speaking, there is no other better place for you and all other Yobeans like the APC. We all have roles to play and contributions to make for a greater Yobe State and Nigeria", Buni said.
The Governor expressed optimism that the defector will contribute to enrich the party, build Yobe and the development of Nigeria.
Recall that, Senator Adamu Talba represented Yobe South Senatorial District during the 6th Assembly from 2007 to 2011 on the platform of the PDP.